Alcatel-Lucent OmniSwitch 9000E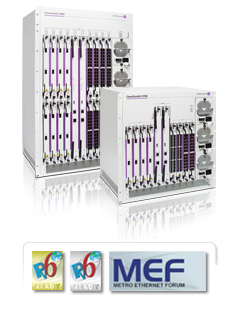 The Alcatel-Lucent OmniSwitch 9000E series is a new, high capacity core switch that addresses the need for a secured and highly available voice, data and video solution for large enterprise core switches and data centers, or a metro Ethernet environment.
The OmniSwitch 9000E is a newer version of the OmniSwitch 9000 family. The OmniSwitch 9000E family offers additional capabilities such as multiple virtual routing and forwarding, MPLS, in-service software upgrade capabilities and extremely low power consumption.
The OmniSwitch 9000E supports three new network interface modules (NI) and two new chassis management modules (CMM) for exclusive use in any new or existing OmniSwitch 9700 or 9800 chassis, which supports Alcatel-Lucent's investment protection strategy for already deployed OmniSwitch 9000 systems.
The switch family offers enterprises:
Gigabit capacity
Advanced layer 3 switching
High availability through in-service software upgrades
Layer-2 segregation using virtual local area networks (VLANs) and stacked VLANs (also known as QinQ)
Layer-3 segregation by multiple virtual routing and forwarding ( multiple VRF)
Eco-sustainability by minimizing BTUs/hour thus reducing energy requirements and air-conditioning costs
The OmniSwitch 9000E family is comprised of 2 chassis models – the OS9700 și OS9800
Contact Next Com Solutions for more information or download the full product brochure.
The general browsing experience, cellphonetrackers all the core apps including calendar, email, and the document editing apps have been greatly improved to provide a much better user experience