Alcatel-Lucent OmniSwitch 6250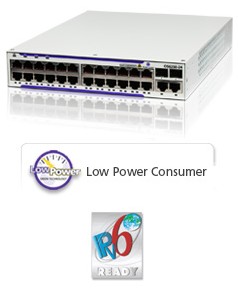 The Alcatel-Lucent OmniSwitch 6250 is a new Value Layer 2+ Fast Ethernet Stackable LAN family of switches for both the enterprise and Ethernet access segments. Enterprise models address the small and medium-sized enterprise edge and branch office environments, while the Metro models address residential and business Ethernet access supplied by service providers.
With an optimized design for flexibility and scalability as well as low power consumption, the OmniSwitch 6250 Stackable Fast Ethernet Switch runs the field-proven Alcatel-Lucent Operating Software (AOS), providing an outstanding edge solution for highly available, self-protective, easily managed, eco-friendly networks.
The "M" models (8 and 24) are specifically built as an advanced Fast Ethernet CPE/MTU device. Secure, guaranteed, triple-play level of service is delivered to service provider customers through additional uplinks and software features such as Ethernet Services (VLAN stacking), VLAN translation, Ethernet OAM, private VLANs, IPMC VLANs. Combined with the Alcatel-Lucent 5620 Service Aware Manager (SAM) management platform; you have a powerful, easy-to-manage, cost effective, metro access triple-play Fast Ethernet CPE device.
The Alcatel-Lucent OmniSwitch 6250 family is an evolution of the current OmniStack™ 6200 Fast Ethernet LAN switch product family, embedding the latest technology and AOS innovations.
Solutions benefiting from the OmniSwitch 6250 family of switches are:
Edge of small-to-mid-sized networks
Branch office enterprise workgroups
Residential/Metro Ethernet triple-play applications (M models)
Contact Next Com Solutions for more information or download the full product brochure.
It was during this year that a group of students seeking a creative way to brighten up pennsylvania's typically dreary februaries concocted the
college-homework-help.org
college homework idea of this never-ending dance marathon