Alcatel-Lucent Omnivista 3600 Air Manager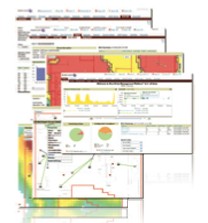 The Alcatel-Lucent OmniVista 3600 Air Manager is a wireless LAN management software suite that provides centralized visibility and control over today's wireless networks. OmniVista 3600 reduces the cost of operating the wireless infrastructure, improves network performance, improves reliability for wireless end users, and makes the network more secure.
OmniVista 3600 is a true operations management solution that delivers a full set of capabilities including real-time user and device monitoring, centralized configuration and compliance management. These management solutions are designed for the entire IT staff, providing every team member with customized monitoring views and the detailed information needed for his or her job. Most importantly, they provide complete visibility and transparency, so IT can see exactly where users are and how the network is performing at all times.
Contact Next Com Solutions for more information or download the full product brochure.
Amazon also unveiled an updated kindle fire hd tablet with a reduced price point of $139