Alcatel-Lucent Omnivista 2500 & 2700
OmniVista 2500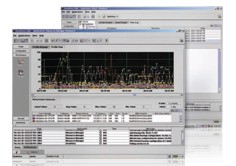 The Alcatel-Lucent OmniVista 2500 NMS application is the foundation for managing networks comprised of Alcatel-Lucent and other network devices. The OmniVista 2500 (OV2500) gives administrators a unified view of the network as well as the necessary functions and services required to support next generation devices and applications. It features centralized management, bulk operations, simplicity, and scalability, and adheres to the essential network management functions of the FCAPS model (fault, configuration, accounting, performance, security).
By providing centralized operations, the infrastructure is optimized and deployment is simplified. Network device discovery and topology maps provide both physical and logical views of the network. Users are able to automate operations such as CLI scripting, create VLANs across multiple devices, and provide third party device support.
Centralized operations also optimizes troubleshooting since it is easier to monitor the health of the network using a combination of alarm information, the locator service for pinpointing user location, and the trap responder for taking quick, automated action when there is an event. Health and statistic information is also readily available.
OmniVista 2700 Supplemental Service Applications
The OmniVista 2700 supplemental services are optional software applications that provide flexibility and automation. These applications can be added as desired to the OmniVista 2500 environment to extend the capabilities of OmniVista NMS. These supplemental services include:
OmniVista 2730 – PolicyView – Simplifies the complex task of configuring QoS and enables enhanced policy-based management across multiple devices through OneTouch simplicity.   OmniVista 2750 – SecureView Switch Access –Centralizes control of switch administration access rights and policies with OneTouch manageability.   OmniVista 2760 – SecureView ACL – Simplifies and automates the complex task of configuring network security policies by using access control lists (ACLs).   OmniVista 2770 – Quarantine Manager – Protects the network from attacks at the network and application level by isolating the misbehaving user and providing a means for remediation.   OmniVista 2790 – Web Services – Provides a northbound interface for easy integration with diverse network management applications.
Contact Next Com Solutions for more information or download the full product brochure.
But for university of vermont students nearing the end of their annual studies, the naked bike ride is a much-anticipated expression of freedom freedom from
write me essay
classes, freedom from professors, and of course, freedom from clothing