Alcatel-Lucent OmniTouch 8670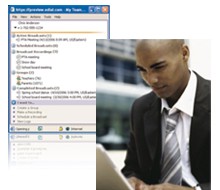 Alcatel-Lucent's OmniTouch Automated Message Delivery System (AMDS) represents a new generation of SIP software-based broadcast messaging solutions, providing an alternative to expensive, proprietary, hardware-based products and costly outbound dialer services.
Delivered on Alcatel-Lucent's Advanced Communications Server (ACS) platform, AMDS enables organizations such as school districts; federal, state, and local governments; and financial institutions to deploy a cost-effective broadcast messaging service to provide their customers with information alerts, event notifications, and alarms. For enterprises, AMDS also helps deliver product and support announcements and marketing messages to target new and existing customers.
Contact Next Com Solutions for more information or download the full product brochure.
The 7-inch fire hdx will cost $229, while the 8