Alcatel-Lucent OmniAccess 6000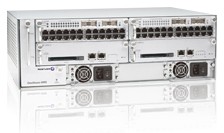 The Alcatel-Lucent OmniAccess 6000 (OAW-6000) Wireless LAN Switch is a high performance, fully featured modular WLAN switch able to aggregate up to 2,048 campus connected access points (APs). The OAW-6000 provides a true user-centric network experience, delivering follow-me connectivity, identity-based access, and application continuity services.
The OAW-6000 offers a scalable design that supports large deployments and can be easily implemented as an overlay without any disruption to the existing wired network.   Advanced voice-over-WLAN features such as Call Admission Control (CAC), voice-aware RF management and strict over-the-air quality of service (QoS) allow the OAW-6000 to deliver mobile VoIP capabilities.
Contact Next Com Solutions for more information or download the full product brochure.