Alcatel-Lucent OmniAccess 4302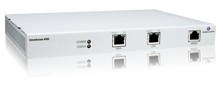 The Alcatel-Lucent OmniAccess 4302 (OAW-4302) Wireless LAN Switch aggregates up to six controlled access points (APs) and delivers integrated mobility, centralized control, convergence services and security for wireless deployments. Designed for branch office, small business and retail store applications, the OmniAccess 4302 can be easily deployed as an overlay without any disruption to the existing network. In addition it can be centrally managed from the corporate headquarters or data center using the OmniVista Mobility Manager System.
Contact Next Com Solutions for more information or download the full product brochure.
If you think that sounds brutal, consider this when they play the macarena , you have to do it